Sunday, March 13, 2011
11:20 AM
|
Posted by Edie
|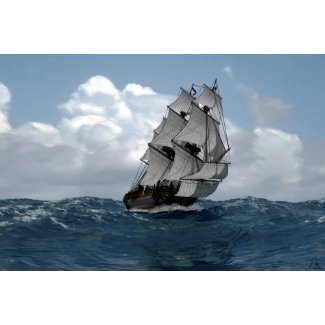 Fregate Pandora by seawolf is for sale at Zazzle
A whirlwind of a week had me dropping off my bike at Foxboro Bike on Sunday for a tune-up. The previous week, I had purchased a Selle San Marco Glamour ASPride saddle that I had found on the Returned Items list at Bike Nashbar. It's pink. Not a pretty pink, either. I am not thrilled about the color but the price was right. I figured my ASP is supposed to be covering it anyway and perhaps it would be a deterrent to someone stealing the bike. My husband also pointed out that it would be easier to spot the bike in the transition area during triathlons, too. Thanks, honey.
The bike was scheduled to be ready on Wednesday so I had a bike fit scheduled for Thursday. While I found it a bit unnerving to walk on a tiled floor in cleats, I am beginning to think that an hour at a bike fit for me is what a manicure and pedicure is to most women. Getting measured and set-up and just getting waited on by a nice guy in general was fun! Going into it, I had visions of falling over, not being able to pedal without gassing myself on the trainer, nothing fitting, getting talked into a new headset - whatever might go wrong
would
go wrong because that's how my life usually works. It turns out the only problem I had was remembering how to parallel park - we don't have much call for that out in the 'burbs. The store is right in the center of town and it was the most embarrassing moment of the day. The guys were so nice, they didn't even make fun of my pink saddle.
Then came the rain. So much rain has fallen lately that most traces of the huge snow banks have washed away. It wasn't until this morning that I finally had a chance to ride.
Clear skies and dry roads... and 32 degrees. Okay, not ideal, but I'd been planning for this,
hadn't I?
Wearing a Russell technical tee with Wigwam arm warmers, I layered a Bellwether thermal long-sleeve jersey over that ensemble and topped it off with a simple windbreaker from Walmart. The polypropylene thermal shirt would have been too much. Starting with my cycling shorts on the bottom, I layered the polypropylene tights over those and a shell pair of shorts over the tights. I went with the ski socks and mountain bike shoes but I could have used another pair of thin socks layered underneath. I could have also used my glove liners but forgot to grab them (here I go with my
mise en place
again).
I FINALLY got out the door and riding by 7:45 this AM. I thought I would take the bike for a quick test ride around the local side streets before trying something longer. As I cruised around the neighborhood I realized the one thing I had not accounted for at all. The long, eventful winter didn't just do a number on our collective psyche - it had done quite a number on the roads as well. There were chunks of asphalt near the over-sized potholes, leaving the once-smooth roads now pock-ridden like a construction site. As a driver, the flat tire and cracked cv axle my car suffered through should have been a clue, but I never really connected the dots until Ride Day.
I made a quick decision to stay local and just rode for about 90 minutes - pretty much in circles - getting used to Shimano shifters and brakes and otherwise getting familiar with my new ride. I maybe logged 12 - 15 easy miles but I hadn't reset the computer (something else I have to familiarize myself with). The saddle felt great, the handling is so much more precise than my Fuji, and I finally feel comfortable standing on a climb. That was never the case when trying to climb with my Fuji Monterey.
I guess the decision to leave early and not wait for the promised 50 degree day was the right one. Shortly after returning home, the bright sky and increasing warmth did a 180 and became cloudy. Now, it has started to rain and there's a rawness coming through the region again. Hopefully, I'll be able to hit the bike paths this week. I was a little apprehensive about this as they're right by the waterways and there has been some local flooding in the area. We'll see how that goes.
Links
Archive